As a self-proclaimed introverted bookworm, I know a thing or two about what readers really want when gift-giving season rolls around. In their hearts, readers want nothing more than to curl up with their favorite book in something cozy with a warm drink within reach… literally all of the time. For readers, a perfectly romanticized weekend always includes a trip to the bookstore or library and a lot of time for reading. And when they're not actively reading, they're thinking about what they're going to read next, hunting for beautiful new bookmarks, or wishing they had more time to read. Readers love collecting books and bookish things as much as they love reading, and often can't help but passionately share the details of their favorite stories with the people around them.
If this sounds like someone you know (and we all know at least one person like this, and if you don't, it might be you) this is the list for you. Ahead I'm sharing the best bookish gifts to buy the reader on your list, or even for yourself, this year.
Uncommon Goods
This reading valet can hold their phone, glasses, and coffee or tea so they have all their essentials nearby while they dive into their latest book.
Amazon
The Kindle Paperwhite is the gift your reader friend didn't know they needed. It's perfect for reading on the go and ensures their entire library is always at their fingertips. Bonus: The sage green color is to die for.
Barefoot Dreams
Reading under a blanket sounds nice and cozy until it comes time to turn the page and you have to take your arm out from underneath the blanket. This wearable blanket solves that problem by freeing your arms. Made from Barefoot Dreams' signature ultra-cozy material, this is a special gift readers will truly treasure.
Uncommon Goods
This DIY book nook is a 3D wooden puzzle that, when completed, will be the perfect little addition to the reader in your life's bookshelf.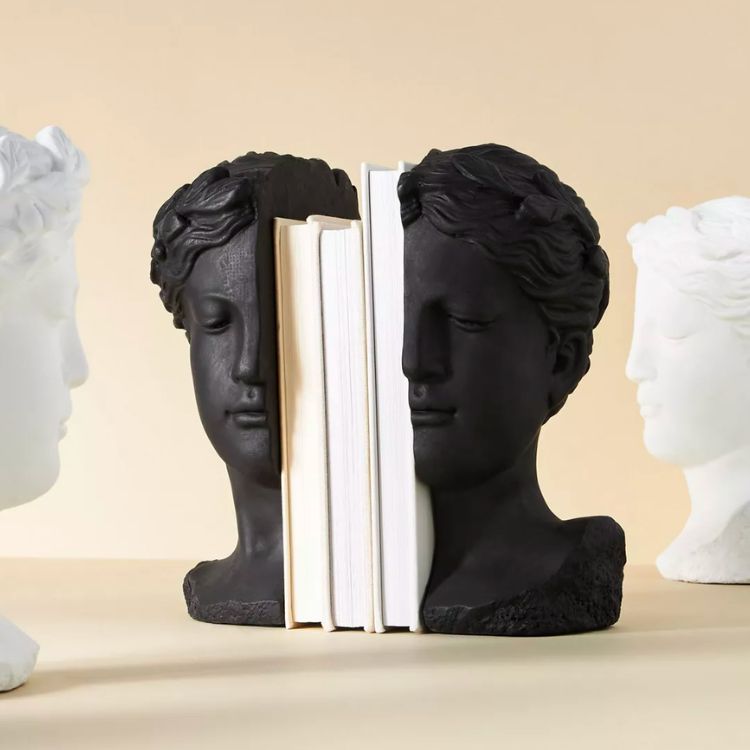 Anthropologie
The perfect bookends are hard to find, but these are perfectly sophisticated and will look great no matter what their decor is.
Cody Foster
Add a little bookish touch to their ornament collection with this gorgeous bookshop ornament from Cody Foster.
Etsy | graceslittlebookcase
Made with real pressed wildflowers, this bookmark is a beautiful addition to any reader's collection.
Etsy | onesundaystory
For the girlie who can recite Darcy's proposal to Elizabeth by memory, this cozy sweatshirt is perfect for lounging and reading in.
Chronicle Books
This little vase is the chic accessory missing from their assortment of bookish belongings. Featuring gold details and a quote from Oscar Wilde on the back.
BYREDO
This peach, plum, and vanilla-scented candle captures the essence of perusing through a library and leafing through endless pages.
Etsy | DelightfulStamps
Every reader should have a book embosser in their arsenal. Stamping each book they add to their library will be a moment they look forward to each time they return from the bookstore.
Papier
Complete with lists, trackers, review pages, and more, this reading journal is a great gift for the reader who doesn't ever want to forget how a book made them feel.
Storiarts
One thing a reader will never turn down? A trip to the bookstore. This tote is the perfect bag to carry all their new books home in.
Juniper Books
You may not be privy to their list of to-be-read books, but if there's one thing I know about readers, it's that books are always a welcome gift—especially if they're special editions. This set of Jane Austen books features beautiful custom book jackets inspired by 19th-century leather bindings.
Etsy | PerfectlyPhrased
For the readers who rate books in chili peppers instead of stars, this sweatshirt is the perfect reading attire.
Anthropologie
The perfect subtle accessory to show off your bookish friend's love of reading.
Etsy | BrooklynSwenson
This bookish art print is coziness in a single image. It's the perfect addition to any reader's favorite reading spot.
The Bookish Goods
We love our belt bags, but they don't exactly have room for toting around our books or e-readers. This belt bag is specially designed to fit a book or e-reader and all our other daily essentials. It's a must-have in any reader's closet.
Etsy | LuckyCactusBoutique
If the bookish person in your life keeps trying to get you to read A Court of Thorns and Roses, get them this candle. Trust me, they'll love it.
KT's Canvases
This set of seven double-sided bookmarks, based on hand-painted designs, will make sure your reader friend has a bookmark to match whatever book they're reading.