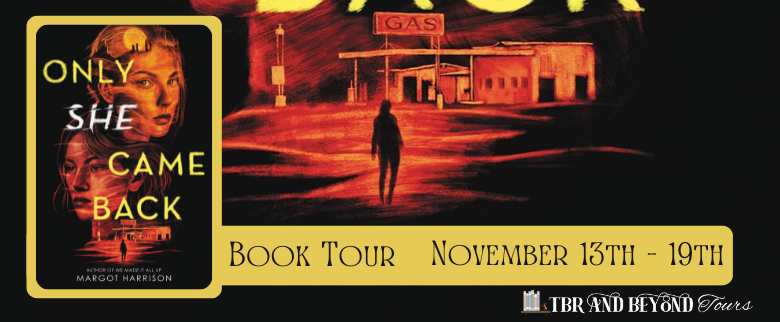 Welcome to my stop on the blog tour for Only She Came Back by Margot Harrison.  This tour is being hosted by TBR and Beyond Tours.
Only She Came Back by Margot Harrison
Genre: Young Adult Thriller
Publishing Date: November 14, 2023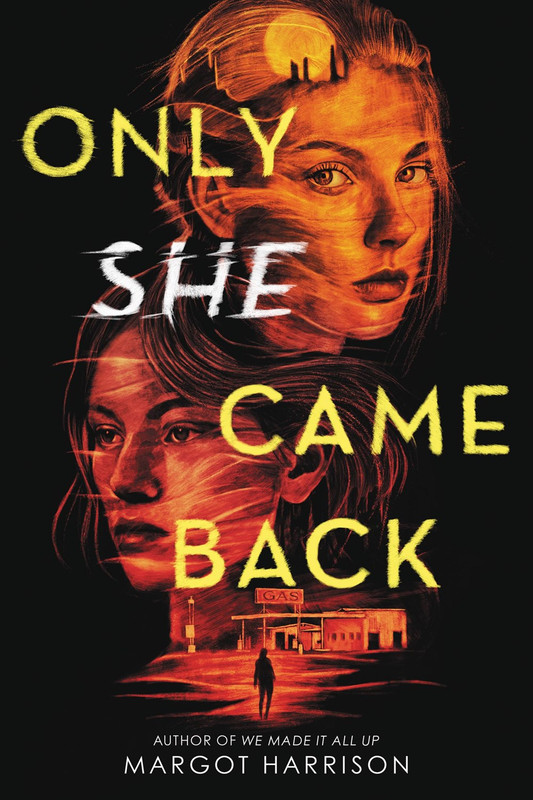 A chilling thriller about an unlikely friendship between a true-crime fan and a former high school classmate suspected of murdering her influencer boyfriend, perfect for fans of Holly Jackson and Courtney Summers.
On July 28 at 6:30 p.m., Kiri Dunsmore walks out of the desert wearing her boyfriend's sweatshirt, covered in his blood. Dazed and on the verge of unconsciousness, she tells a cashier that he's still out there and most likely dead. The disappearance of Callum Massey, a "survival guru" with hundreds of thousands of YouTube followers, rocks the nation. And Kiri is a prime suspect.

Back in Kiri's hometown, true-crime fanatic Sam   is completely hooked on the case—especially now that she recognizes the suspect as shy Katie from high school. Although they didn't know each other well, that doesn't stop Sam from reaching out to befriend her old classmate.

But when Kiri starts to confide in her, Sam realizes there's more to the story than she had imagined. Can she keep Kiri's secrets even though revealing them could put her where she's always longed to be—at the center of the story?
Content Warning: violence, emotional abuse and grooming, dieting, disordered eating and mentions of fatphobia, mentions of past domestic abuse, brief substance use, off-page animal death (chicken)
Book Links:
Goodreads: https://www.goodreads.com/book/show/123204371 
Amazon: https://www.amazon.com/Only-Came-Back-Margot-Harrison/dp/0316536083/ 
Barnes & Noble: https://www.barnesandnoble.com/w/only-she-came-back-margot-harrison/1143170706 
IndieBound: https://bookshop.org/p/books/only-she-came-back-margot-harrison/19837855
This is one of those books that is hard to put down. You want the whole story asap, but you know that you're only getting partial truths at time. The author does a great job with keeping it suspenseful.
Sam and Kiri went to school together. Except Kiri's real name is Kate. Kiri started dating a youtuber, Callum, and she went on a trip out west with him. She became part of his channel. Everyone watched them in New Mexico. Kiri had gotten so much thinner while dating Callum and she looked rough. But I guess it didn't bother anyone that much. But Kiri was picked up by a family. Alone. She was wearing Callum's shirt covered in blood. She went home and the police were asking a lot of questions. No one knew where Callum was, but he was presumed dead. Reporters were outside Kiri's house and she couldn't go anywhere. Sam used to do a true crime podcast, but it didn't do well. She recognized Kiri as Katie and decided to try to talk to her. Sam got close to Kiri quickly. Kiri told her things from the desert, but still not everything. But she gave Sam her diary to learn more. It's obvious that Kiri and Callum's relationship wasn't healthy, but Sam just couldn't see Kiri as a murderer. She starts to help Kiri even when things get dangerous for her.
I gave this book 4 stars.
Thank you to the publisher for sending me an earc through Netgalley and a finished copy.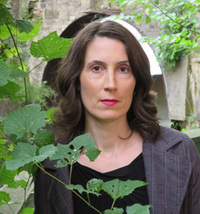 Margot Harrison has a lifelong habit of creeping herself out and now attempts to creep out others via her fiction.
Her first YA novel, The Killer in Me (Little, Brown, 2016), was an Indies Introduce pick and a finalist for the Vermont Book Award and received a starred review from Publishers Weekly. Her second, The Glare (Little, Brown, 2020), received starred reviews from Kirkus Reviews and Booklist. Her third, We Made It All Up (Little, Brown, July 2022), is a Junior Library Guild selection and has appeared on "best of" or "most anticipated" lists on BuzzFeed, Teen Vogue, Book Riot and Lit Hub.
Author Links:
Website: https://margotharrison.com/ 
Twitter: https://twitter.com/MargotFHarrison/ 
Instagram: https://www.instagram.com/margotfharrison/ 
Goodreads: https://www.goodreads.com/author/show/14215617 
Follow The Tour:
TOUR SCHEDULE
November 15th
One More Exclamation – Review
November 16th
Abigail's Lost in a Book – Review
November 17th
Twirling Book Princess – Promotional Post
November 18th
Confessions of a YA Reader – Review
November 19th
My Bookish Ways – Review
The Nutty Bookworm Reads Alot – Review
Instagram
November 13th
bookdemonio – Promotional Post
nissa_the.bookworm – Review
silveryquills – Review
acourtofspinesnpages – Review
November 14th
whatkarinareads – Promotional Post
busymomsbookstagram – Review. Favorite Quotes
itputs.the.book.upon.the.shelf – Review
staxsonstaxs – Review
ablueboxfullofbooks – Creative Post: Little Free Library Drop, TikTok
November 15th
rickys_radical_reads – Promotional Post
overlookingcovers – Review, Favorite Quotes
celiamcmahonreads – Review
onemoreexclamation – Content Creator's Choice
November 16th
ninebookishlives – Promotional Post
aneedleinmybookstack – Review
kathytrithardtTop 5 Reasons to Read Only She Came Back
abigailslostinabook – Content Creator's Choice
November 17th
dreaminginpages – Promotional Post
justa.gal.andherbooks – Review
artxsouls – Review, Playlist
bookmarked.by.becky – Review
November 18th
amysbookshelf82 – Review, Favorite Quotes
tarasbookaddiction – Promotional Post
quirkylitlover – Review
gsreadingspree – Review
booking.with.janelle – Review
November 19th
tbrandbeyond – Promotional Post
christinabethreads – Review
jaimes_mystical_library – Review
my.bookish.ways – Content Creator's Choice