Managers often prefer to let their players do the talking. Not in a literal sense, but on the field of play, the football is what hopefully takes centre stage. That's the way Arsenal boss Jonas Eidevall likes it to be.
Last weekend against Manchester City, the Gunners did indeed do all their talking on the pitch. In a game that was played on a knife's edge, they emerged 2-1 victors over their WSL rivals to re-establish an important foothold in the early-season title race.
It was a game Eidevall described as ferociously competitive and the perfect advert for one of the most hotly-contested major leagues in the women's game. There were goals, a penalty miss, which equalled a penalty save, magic moments followed by mistakes, and a series of heroes and villains who all played their part charmingly.
Drama and entertainment at its full-throttle best.

Sunday 12th November 6:30pm


Kick off 6:45pm

Except what dominated the headlines in the aftermath perhaps detracted from the game's splendour as City boss Gareth Taylor accused Eidevall of 'bullying' the fourth official in his post-match comments.
It's a claim Eidevall has since refuted, but entering into an exclusive chat ahead of Arsenal's meeting with Leicester City this Sunday, live on Sky Sports, the Gunners boss had a chance to speak candidly about his take on a 'sad' situation.
"My biggest frustration was that it was deflecting from talking about what happened on the pitch," he began. "It was a very exciting game; two teams playing good football and wanting to entertain.
"Those games are what make the WSL a really attractive league. I thought it was sad, that so much of the coverage was dominated by this thing [Gareth Taylor's comments].
"The focus was completely wrong. The players deserved more focus and they didn't get that – that part I didn't like.
Arsenal boss Jonas Eidevall denies claims from Gareth Taylor that he 'bullied' the fourth official in their WSL clash

"Individual players made huge contributions in that game, that's what should be making the headlines instead of one coach accusing the other of something that isn't true. It doesn't make any sense. I can't see any winner in that."
Eidevall also highlighted the commonality that joins the WSL's relatively modest community of head coaches together, after being asked whether intense managerial rivalries – those that are often observed in the Premier League – might actually be a good thing for the attraction of the WSL.
He added: "First and foremost, my feeling is that I have so much more in common with my colleagues than differences. We're a small community of head coaches and we need to stick together and support each other.
Highlights from the WSL clash between Arsenal and Manchester City

"Rivalry can never be at the cost of that, because then it becomes disrespectful and mischievous. Instead, I prefer to speak about competitiveness – to do what it takes to win a football match. But also, that has to stop when a game is over. What happens on the pitch stays on the pitch, we can't take it personally.
"When I reflect, I know I'm a passionate coach on the sidelines, I'm a very competitive person, but I've also been sure that when the game stops I don't carry things on. I try to be a good person and that's really important."
Taylor: Managers need to own actions
Jonas Eidevall has responded to Gareth Taylor's claims of bullying the fourth official in Arsenal's WSL win over Manchester City by calling them 'borderline slander'

When Taylor was asked if the game had a problem that needs addressing, the City boss said: "I've always stated that we need to be respectful, we need to be respectful of each other.
"Sometimes the passions overrun of course, I understand that. But I think ultimately we need to own our actions and I think being respectful is the main one. Nothing changes on my thought process with that.
"I think there are ways we can be better. Rugby and the way they operate, I think the respect shown to officials and each other is very high, and obviously there's probably things we've been allowed to get away with, players and head coaches, for too long.
"I think the officials are trying to address it, and in certain moments they have this season and in others potentially not. So it's just a work in progress. And I think as long as we're all working together to make the game better for everyone, I think that's what we're looking at."
When it was put to him that Eidevall was still waiting for an apology, Taylor said: "That's not something I want to share. I think, look, it's time to move on.
"We've spoken about it, I made comments, he's made comments, it's time to move on and draw a line under it."
Green shoots of recovery for Gunners
Arsenal's Victoria Pelova learns some funny British words and phrases and discusses her Arsenal team-mates

Pivoting away from the past and focusing on what's next was naturally where Eidevall's enthusiasm heightened, sat in a room adjacent to Arsenal's press conference holdings, which was soon to host Mikel Arteta ahead of Arsenal men's weekend meeting with Burnley. The Swede started by dissecting his side's shaky start to the new term, but why there's reason for cautious optimism.
"Time was not our friend," he said, referring to the short period between the end of the Women's World Cup in Australia and the start of the new domestic campaign. Arsenal indeed fell foul of that cursory turnaround by being dumped out of the Champions League in qualifying, before suffering at the hands of Liverpool on opening weekend of the WSL.
Green shoots of recovery have emerged since then, however, with big names returning and certain summer signings beginning to find their feet. Beth Mead and Viv Miedema have both made triumphant returns, while Alessia Russo is proving why she was hot property during a summer of intense speculation – and she's not the only one to impress.
"You could see in the beginning we had a lot of things to work on, that's natural as a group of players that haven't had time to play together," Eidevall continued. "Relationships need time to connect, and old ones need time to refresh and recharge.
"We've been able to keep our heads cool and remember that things aren't going to be perfect. We work always with a purpose. The players have been brilliant at keeping their composure and we're on a much better stage than we were at the beginning of the season. Are we a finished project? Not at all – we have massive room for growth. I'm not relaxing.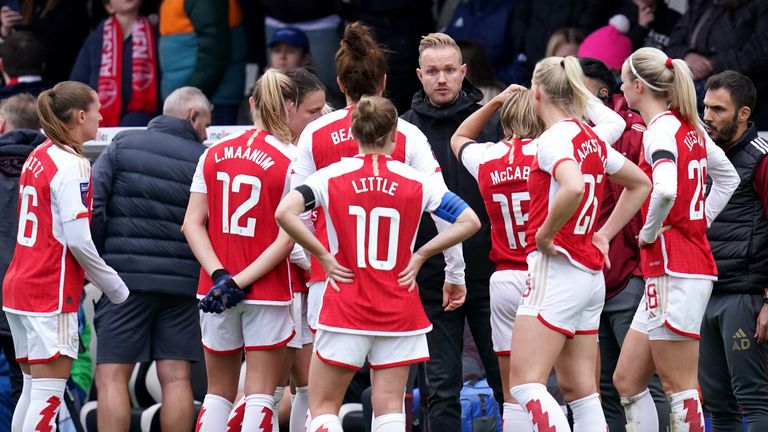 "The moment you don't see how things can be better you lose direction."
What comes next is of course the reckoning; the phase where expectation has been set, met in parts, and now needs translating into consistent results.
Arsenal have won each of their last three WSL games by a 2-1 scoreline – perhaps we should amend the chant, although admittedly "1-0 to the Arsenal" has a better ring. Anyway, this weekend also marks Eidevall's 50th league game in charge and presents a chance to establish himself as a coach with the joint second-best win ratio after their first 50 games – level with City's Taylor.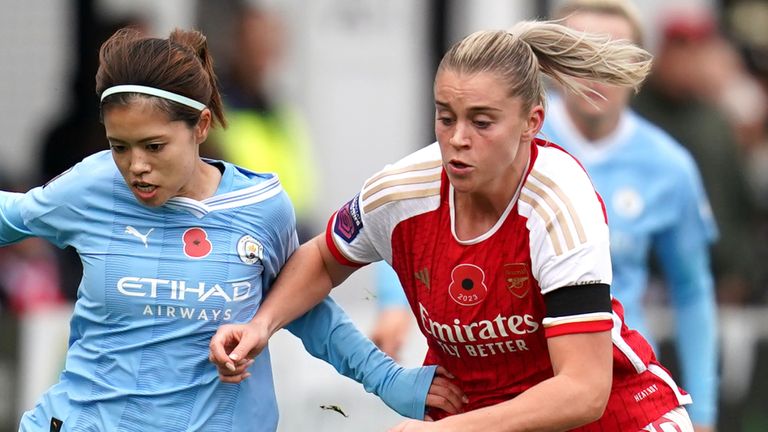 He said: "A season at Arsenal is like three or four at another club. Has it come around quick because there are so many things happening? Yes. It's a very encouraging and exciting environment to be a part of. It's a privilege to lead an Arsenal side 50 times."
During Eidevall's time in charge of Arsenal, only Chelsea have scored more goals (143) and conceded fewer (30). His record is impressive. Except now silverware must follow and that realisation adds greater pressure to the 40-year-old's agenda.
Win % after 50 games
| | | | |
| --- | --- | --- | --- |
| Best win % after 50 | Club | Played | Win % |
| Joe Montemurro | Arsenal | 50 | 80% |
| Gareth Taylor | Man City | 50 | 72% |
| Jonas Eidevall | Arsenal | 49 | 71.4% |
| Nick Cushing | Man City | 50 | 64% |
| Emma Hayes | Chelsea | 50 | 52% |
"It's important, as a team, that we feel like we can win games in more than one way," he commented. "We've been able to find the winning edge with small details, which is good, and we have a much deeper squad than we had last year.
"We can't start from the end point and work backwards; we have to have patience."
So, what requires further improvement?
"As a trend, I don't like us conceding goals. We've conceded goals in our last seven competitive games. It's very far from how I want our defensive record to be. At times we've lost our focus and allowed big chances – that's really hurtful in football and we need to improve that."
Lynsey Hooper sits down with Leicester and Belgium's Janice Cayman as she looks back on her career in pictures

But, with motivation and togetherness, where can it lead?
"It's important to know that we can win against teams that create very even game stakes. We find our way. How can we swing momentum, but remain calm in that process? That's the most important attribute of this group of players. They're hungrier than ever to win our way."
Watch Leicester City vs Arsenal live on Sky Sports Football on Sunday from 6.30pm; kick off 6.45pm