England striker Bethany England admits her recent hip injury has left her with frustration and sadness – but she can't wait to get back on the pitch.
The Tottenham forward is completing her rehabilitation from a hip operation that has seen her miss the entire season so far.
"This is different for me, I've never had an injury when I've been away from the pitch for so long," England told Sky Sports.
I've definitely been frustrated, I've been sad, I've been a lot of things that my partner's probably hated in me, coming home to me.
"Ultimately, it's a situation I couldn't avoid but it's been fixed now. A few more weeks and we should be good to go."
Watch Beth England's best goals from over the years in the Women's Super League

England is open about the toll the time away from the pitch has taken on her, especially as she finished last season so well after scoring 12 goals in as many WSL games for new club Spurs.
"I've always been a confident person but I have doubted myself. Am I going to be able to come back and be the same player? Before the surgery I knew I was playing the best football I've ever played, that's one of the reasons I was able to be called up for the World Cup.
"For me it's just believing in myself that I can get back to being that Beth and not only that Beth but become a better footballer all-round.
"I want to play, I want to be out there, I miss it more than I ever thought I would.
"Being injured you learn a lot of things about yourself and what you can cope with. I love football, I adore football and I can't wait to be back playing and, hopefully, scoring goals."
England is making the most of the time away from the first team by trying to get more children creatively involved in science, technology, engineering and science.
She's been working with the Institute of Engineering and Technology to challenge kids to design football kits to be worn on the Moon, something experts predict could happen as soon as 2035.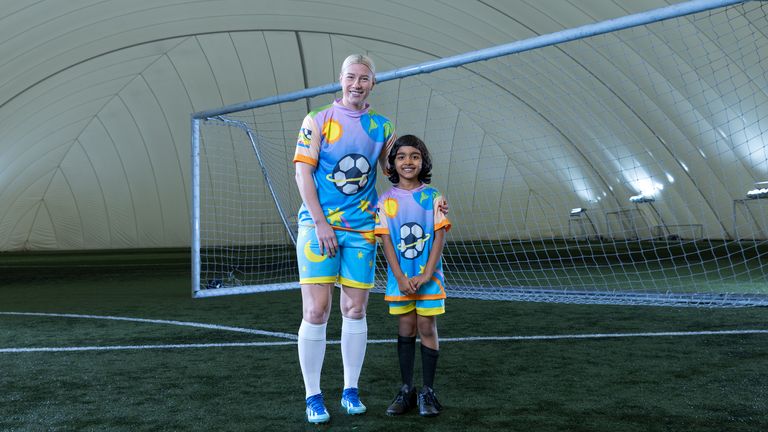 "Kids are so imaginative and it's a way for them to express themselves in a way that may not be there.
"When I was a kid I had so many interests I'm not into now and maybe that's because I didn't have the opportunity to explore them.
England even admits she'd be interested if she was ever asked to play in space herself.
"It would all be in slow motion. The big size ball, the big size nets, it would be cool to be part of.
"I actually have a big fear of flying but if I knew if it was all checked and safe I'd definitely give it a go and be one of the pioneers."
That fear of flying was tested greatly when England was part of the Lionesses World Cup squad in Australia.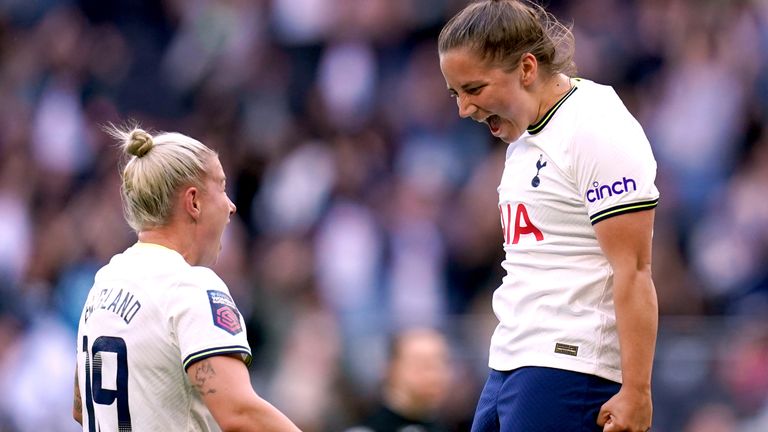 The 29-year-old admits it was something her team-mates wouldn't let her forget.
"I hated it. I loved Australia, loved every minute of it but all the internal flights in between, it was a bit heavy for me.
"There was one flight I was really unwell afterwards and the girls were all laughing at me but I just felt like I was going to be sick. Flying is not for me.

Sunday 19th November 1:00pm


Kick off 2:00pm

"They were together in that they were laughing at me in unison. It's part of the game though and it was a great experience for us to be out there and to do what we did."
Things went better for England on the pitch, playing a part off the bench throughout the tournament as her side made it to the World Cup final.
But that defeat to Spain in Sydney is something that still disappoints her.
"I probably feel the same now as I did at the time; we fell short. On the day we weren't good enough to win.
"We wanted to be better and bring it home like we did during The Euros but it just wasn't meant to be.
"I'm still proud of how we handled ourselves throughout the World Cup and how we did as a group.
"To say you're second best in the world is something not many can say. We still want to strive for more and hopefully there's an opportunity again for us to win it but we did the best we could on the day."
While England is aiming for more international success when she's back, she has also taken the time to improve other aspects of her life.
"If anything I've learned I can get a lot stronger in the gym, I've spent that much time in it, I've bulked up a bit. Other than that, I love word-searches. I did a lot of that when on crutches too."