Sky Sports News' chief reporter Kaveh Solhekol, Sky Sports News' senior reporter Rob Dorsett and football finance expert Kieran Maguire answer the key questions following Everton's 10-point deduction for a breach of the Premier League's profit and sustainability rules.
What's happened so far with Everton?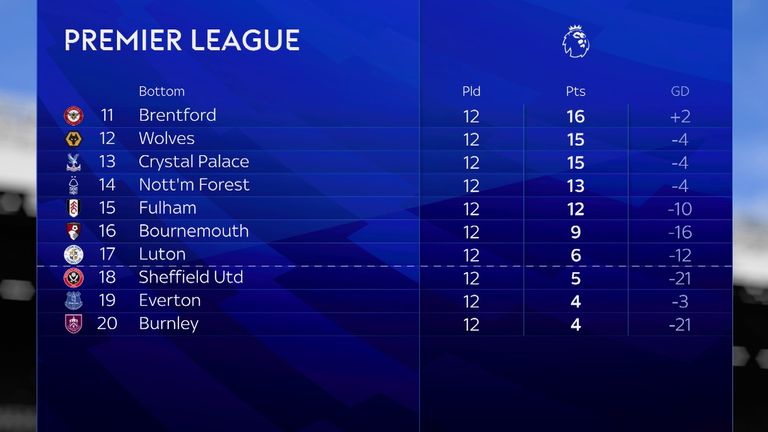 Kaveh Solhekol: Everton have broken the rules and they have admitted so. This is not the Premier League deducting 10 points from Everton, this is an independent commission deciding that Everton should be immediately deducted 10 points.
All 20 Premier League clubs sign up to the Profit and Sustainability Rules (PSR) and those rules say that over a three-year period you're only allowed to lose a maximum of £105m.
But this three-person independent commission has found that Everton lost £19.5m more than that and they have decided that a suitable punishment should be a 10-point deduction.
Jamie Carragher feels Everton's 10-point Premier League deduction is 'excessive' and they have a good case for getting it reduced

What do we know about the independent commission?
Kieran Maguire: The Premier League is always keen to distance themselves from being involved in the decision itself. You can understand that as there are so many clubs.
Everyone has a vested interest as far as an individual club is concerned so the Premier League wants to be independent of the decision.
It consists of three people: a chair of the panel, an accounting person and then someone of a football legal background as well. These will be professional people and they will have seen the evidence of the Premier League, who were effectively on the prosecution side, and Everton's lawyers and professional people working on the case.
What's next for Everton?
Everton fans were feeling despondent after the club were handed a 10-point deduction for breaching the Premier League's financial rules

Kaveh Solhekol: Everton say they will appeal and they have 14 days to lodge their appeal.
If they decide to appeal, there will be a new appeal panel set up which will hear their appeal and decide whether this punishment is too harsh, whether the points deduction should be reduced or whether it should be changed into a fine or a transfer embargo.
So we're not at the end of this process yet, but I think the Premier League are very keen for this process to end before the end of this season. They don't want this dragging on into the summer or next season.
What could Everton say in their appeal?
Football finance expert Kieran Maguire explains why Everton have been deducted 10 points by the Premier League and what he expects them to do regarding an appeal

Kieran Maguire: Everton have got to go through the ruling, on a line-by-line basis, to identify if they feel there's any ambiguity, with regards to the interpretation of the accounting and financials by the Premier League commission, and use that to form part of their defence.
I think they will also be seeking further evidence in relation to their inability to pass players on. For example, they signed Cenk Tosun from Turkey for around £27m – it didn't work out for the player.
These things sometimes happen. Everton would have said, under normal circumstances, they would have sold him back to a Turkish club – but Turkey was effectively in total closedown (during Covid), and so that market was denied to them.
Therefore, the chance of recovering £8m to £12m a year or two later was denied to the club.
Ultimately, Everton were around £20m over the PSR limit – if you knock off another £12m then we're looking at a much lower figure and, you would think, that would provoke a much lower point deduction. So, this is the direction Everton are likely to follow.
How are other clubs impacted by this?
Leicester, Burnley, Southampton, Leeds and Nottingham Forest are all considering taking action after Everton were handed a 10-point deduction

Kaveh Solhekol: Everton were charged in March, and we've had a decision in November, but of course a lot of people will be saying the accounting period we're talking about here that they are being punished for ends at the end of the 2021/22 season.
So, if Everton got an advantage, they got an advantage back then. If they had been given this points deduction in the 2021/22 season then they would have gone down and Burnley would have stayed up.
Should this points deduction have happened last season then Leicester would have stayed up.
We've also found out that five clubs – Leicester City, Burnley, Southampton, Leeds United and Nottingham Forest – are considering lodging a claim for compensation with the Premier League.
Premier League rules provide a mechanism that if you think you have a claim for compensation and those five clubs have already contacted the commission
They now have 28 days to inform the commission if they want to lodge a compensation claim.
What's Leicester's position on the issue?
Rob Dorsett: Leicester have had absolutely nothing to say on the matter. They're conducting all of their business in private and they've rebuffed every phone call that I've thrown their way since we got that news that Everton are to be deducted 10 points.
I understand that Leicester's bosses are considering their options and they're consulting with lawyers on how best to respond to this 10-point deduction.
If Leicester are going to take this through the civil courts, which is the only option they have in suing Everton, then they would be seeking a financial reparation for what they would feel are the loss of revenues from dropping from the Premier League to the Championship.
I think Leicester bosses have already accepted that there can't be any sporting reparation here. It's not as though they can ask the Premier League for them to be reinstated in the top division and Everton be relegated in their place. That's just not realistic and is not going to happen – you can't try and rewrite history.
But what Leicester's bosses are considering with their legal representatives is whether, because of all of the money they've lost as a result of being relegated, that they may be able to make some legal claim against Everton to mitigate against that loss.