NYC, New York, November 15th, 2023, Chainwire
In the ever-evolving landscape of the cryptocurrency world, a new legend is emerging – GigaChadGPT ($GIGA). This revolutionary token combines the alpha energy of the internet legend GigaChad with the unmatched power of Artificial Intelligence. GigaChadGPT is the combination of the intellect of a genius paired with the physique of a Greek god.
Connecting with the Legendary GigaChad
Now anyone can access the wisdom of the ultimate alpha, GigaChad, through GigaChadGPT. GigaChadGPT offers a distinctive opportunity for everyone to connect and engage with this renowned source of knowledge. Whether seeking life advice or exploring insights into crypto investments, GigaChad provides comprehensive support. It is important to note that GigaChadGPT's responses do not constitute financial advice in any manner. Users can click here to engage in a conversation with this legendary figure.
Tokenomics
The success and growth of GigaChadGPT are built into its robust tokenomics:
70% Presale: Early investors secure their alpha status by getting in on the ground floor.
15% Treasury, Development, and Marketing: Fueling growth, developing new features, and aggressive marketing strategies ensure the project's success.
10% Liquidity: Smooth trading is guaranteed, and the launch price exceeds the presale price.
5% Team: The team is fully committed to success, with locked tokens ensuring no weak rug pulls.
0% Buy and Sell Tax: GigaChadGPT has a 0% tax rate for alpha investors.
Presale Details
With a total supply of 100,000,000 tokens, the presale is divided into five phases:
Nov 14th – Dec 1st: $0.003247
Dec 1st – Dec 15th: $0.003401
Dec 15th – Dec 29th: $0.003571
Dec 29th – Jan 12th: $0.003759
Jan 12th – Jan 26th: $0.003968
The official launch is set for Feb 1st, with a price of +/- $0.0045. The presale ends on January 26th, 2024, with no extensions or gimmicks.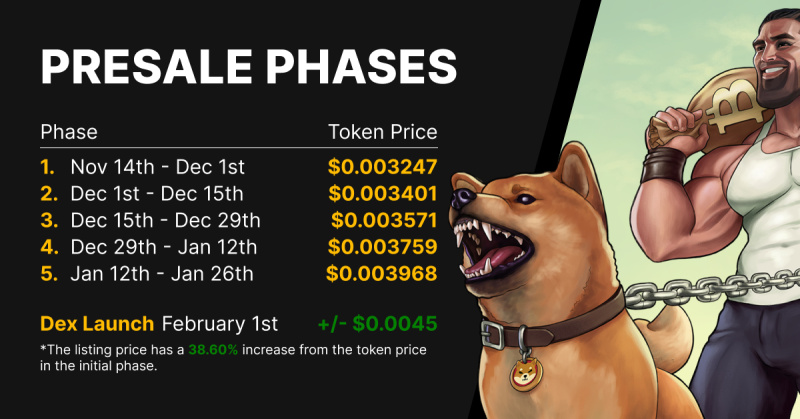 Roadmap
Q4 2023 – Getting Started
Development Success: GigaChadGPT is alive, paving the way for more AI solutions.
Community Building: Establishing a community of alphas to rule over betas.
Q1 2024 – Pursuit of Success:
Token Launch: Listing on major decentralized exchanges for maximum liquidity and accessibility.
Intensified Marketing: Implementing a robust strategy to continuously promote GigaChadGPT.
2024 – The Future
Continuous innovation and improvement to stay ahead of beta competition. GigaChadGPT aims to be the ultimate symbol of dominance in the crypto world.
Conclusion
GigaChadGPT is not just a token; it's a movement. The fusion of alpha energy and artificial intelligence creates a force to be reckoned with in the crypto space. As the project unfolds, it promises continuous innovation, community building, and a relentless pursuit of success. Users are encouraged to join the GigaChadGPT revolution demonstrating their alpha presence to the world.
About GigaChadGPT
GigaChadGPT is a memecoin integrated with AI, allowing users to engage with the GigaChadGPT AI chatbot on the website or via Telegram. The project's objective is to develop the ultimate alpha chatbot on the internet.
For more information visit GigaChadGPT 's Official Website.
Contact
Andy Thomson
[email protected]

Disclaimer: This is a sponsored press release and is for informational purposes only. It does not reflect the views of Crypto Daily, nor is it intended to be used as legal, tax, investment, or financial advice.