By Marc Cucurella's own admission, his first season at Chelsea did not go to plan. Amid a torrent of managerial changes at the club, the left-back found that the form which secured moves from Barcelona, Getafe and Brighton in successive summers did not quite follow.
But the 25-year-old is applying the lessons learnt over a difficult year to the current campaign, and points to mentality as being key.
I'm not happy with my first season, but I can learn a lot, especially in the bad moments," he said ahead of Chelsea's match against Manchester City on Super Sunday, live on Sky Sports.
"I can learn when I need to manage the head because that is so important in football. Before I came here, I always played and played well and never had problems like this.
"But here when I came, I didn't play at my level, I'm a little bit frustrated and I can learn to manage this. Now I can show them that I'm very happy here and all the things I learnt last season, I can put here in this season.
"I think this season is better. I'm very good mentally and I think this is one of the important things because if you are good mentally and in your life, I think you can you can play better, you can help the team and you can enjoy this."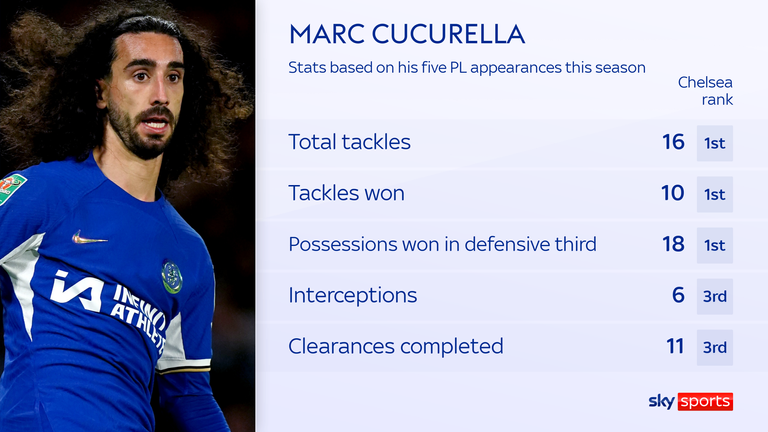 Cucurella has had to wait for his opportunities under Mauricio Pochettino. He had largely been restricted to Carabao Cup appearances until recently, starting four of the last five Premier League matches.
The defender has topped a number of defensive categories among his team-mates in those games too, including tackles and headed clearances.
While predominantly a left-back, Cucurella has started on the right this season, sometimes to fill positions left vacant by injury. The same can be said for his appearances at centre-back last term too.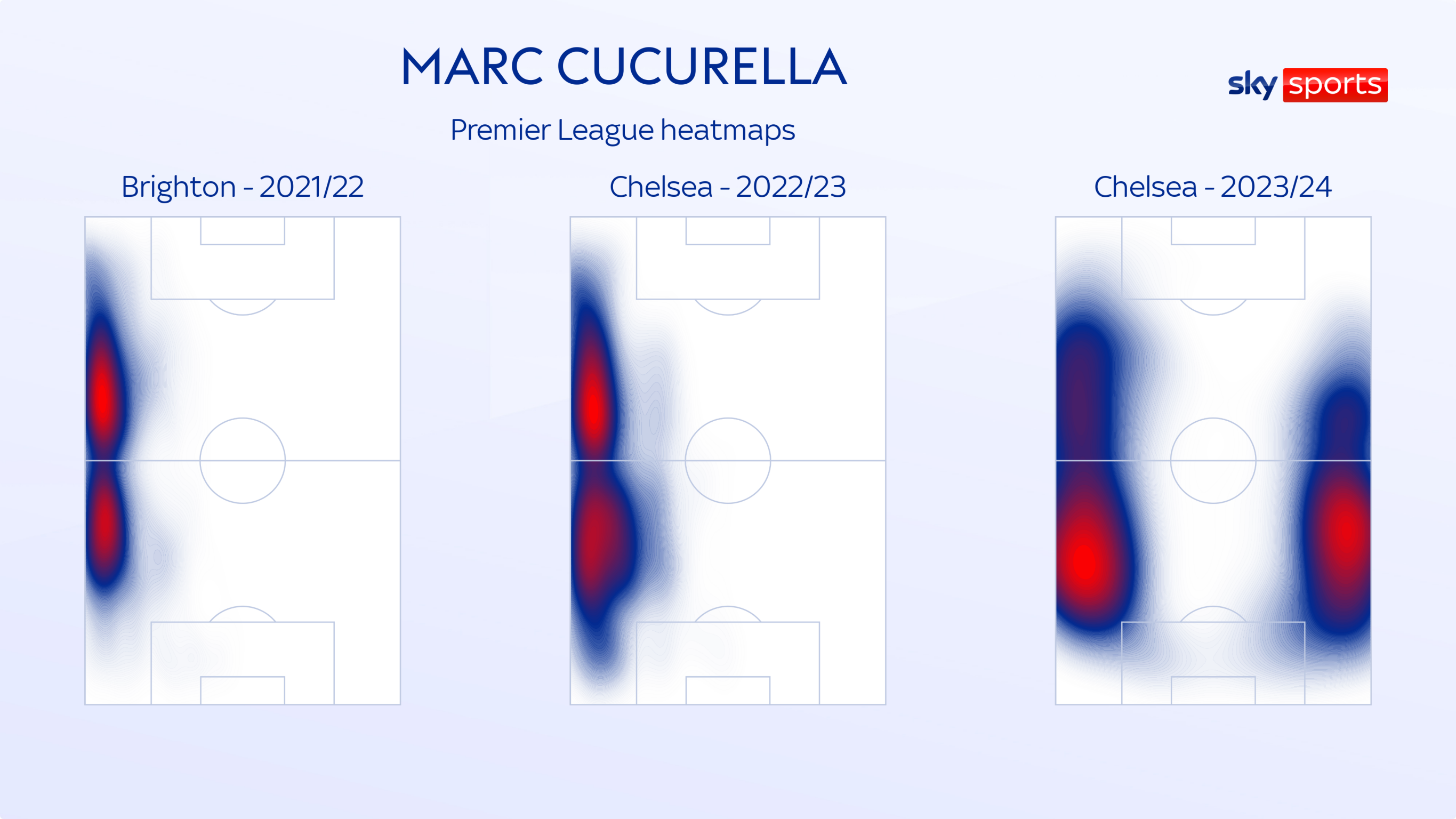 "It is good because if I play more positions, I have more opportunities so this is better for sure," the defender said.
"I've never played on the right and it is not easy. Sometimes you need different things and you need to have time to learn because it's the same but on the opposite side so you need to change some things.
"I remember the first minutes [at right-back], I felt a little strange because what I wanted to go one way and my body went to the inside, but these are this small details. But then with more minutes, you can do this. It is good because I try to do my best and do whatever the manager decides."
Cucurella on working under Mauricio Pochettino…
"He's a manager that loves work and this is one of things I like as well because I feel better when I work a lot. When we work hard, I can play better when I feel good physically.
"We have started to build a new project and it's difficult because we have a lot of new players. But I think that the way we start to do it is very nice.
"If we follow it and we never stop working, we try to improve then I think that the level is there and we can do a very good things."
Needing to fill spots might sound strange considering the size of Chelsea's squad. But with so many players jostling for just 11 starting places, keeping yourself prepared is vital if you are not assured of game time.
Cucurella reflected: "It is difficult because all the players want to play, but the most important thing is if you don't play, you need to train well. If you don't play and then you don't train, you won't be ready then when you have the opportunities.
"So I try to do this, training to be ready and I'm prepared when I have the opportunity without pressure. When I have the opportunity, I try to do my best, I have a good level and then it's our continuity. I'm feeling good and I try to help the team when the manager decides."

Sunday 12th November 4:00pm


Kick off 4:30pm

Developing and improving yourself is key too. Cucurella has only ever scored one Premier League goal with three assists at both Brighton and Chelsea, and is keen to improve those statistics.
"I think I can improve a lot of things. I think the first one is scoring goals because I have chances, but I never score," he added.
"In training, I score a lot, but in the games, I don't know why [I don't score]. I think when there is a clear chance, I miss but when the chances is not clear, you score.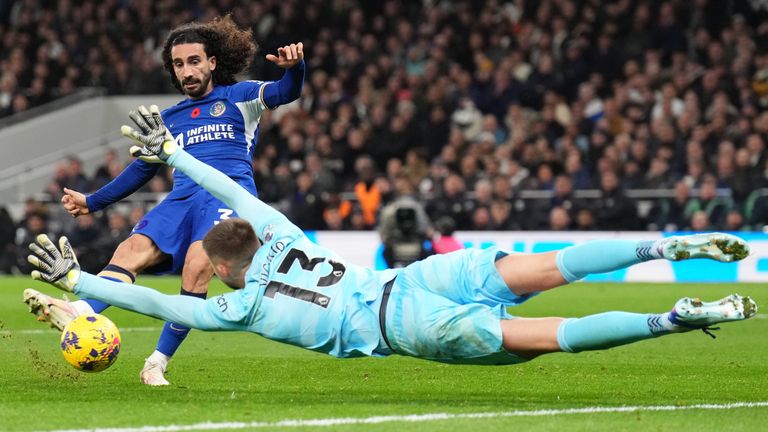 "In the last step of the pitch when you need to assist or score goals… sometimes I play a lot and my stats are not very good in these phases.
"Maybe it's one of the most important things I can improve because then if you have all the stats with a lot of goals and assists, people say that you have a good season."
'Lots of Chelsea positives from Spurs win'
FREE TO WATCH: Highlights from the Premier League match between Tottenham Hotspur and Chelsea

The left-back's next chance to improve these numbers comes on Super Sunday, when Chelsea host Man City. It continues a tricky run of fixtures for the Blues who then play Newcastle, Manchester United and Cucurella's former side, Brighton.
Pep Guardiola's side have some thanks to give Chelsea for their current first place standing in the Premier League, coming by virtue of the Blues' chaotic 4-1 win against second-place Tottenham on Monday Night Football.
Cucurella played in the second half of the game, when Nicolas Jackson went on to score a match-winning hat-trick.
"In the first half, I can't believe what I what I watched," he reflected. "On the bench, you can see everything you can do in a game and you saw in these 45 minutes that it was a crazy game and for sure it is better if you win.
Five? Eight? Ten? We look at all VAR checks made in the game between Tottenham and Chelsea

"But I think it is very important for us because it gave a lot of confidence. For the fans as well, we know it is a very important game for us, for the team and the club.
"We have a lot of positive things [from the game] because we came back, we came up with a result and sometimes, we have met some problems with this. We could see before that it was not very often that we came back for the result, so this is important.
"Then as well, we can suffer because in the first 15 minutes, we didn't play very well and they played better than us. We suffered together and awaited our chances to score. Then we scored four goals and maybe at the start of the season, we have problems with the scoring goals.
Gary Neville tells his podcast that he doesn't think that Chelsea's win at Tottenham on Monday is the launch for their season as they are still nowhere near the level of Manchester City

"Nico [Jackson] scored a hat-trick, Reece [James] is back as well and they play a really good game. So we have a lot of a lot of good things.
"We won at an important club, one of the biggest clubs in the league and we have three more points. Then we are ready to play against Man City this weekend.
"We know the fixtures are difficult, but I think we can show the level of the team. Sometimes we are not very regular [with results] so we can win and then lose and this is maybe one thing we need to improve.
Gary Neville reacts, on his podcast, to the extraordinary Monday Night Football encounter between Tottenham and Chelsea and says the Premier League offers games like no other league in the world

"Playing against Man City is very difficult, but we come [into the game] with an important win and we have more confidence from this game [against Spurs].
"We will try to do our best to win this game, we know it's difficult but I think we are ready to show the people that that this team is ready to do good things."
How Guardiola helped develop Cucurella
Cucurella has underlying links to Man City manager Guardiola. Both are from the Catalonia region of Spain and came through La Masia. The Chelsea defender joined the famed Barcelona academy in 2012 as Guardiola departed as men's first team manager.
While the pair did not cross paths at the club, Cucurella has credited Guardiola's influence across Barcelona for helping his own improvement as a young player.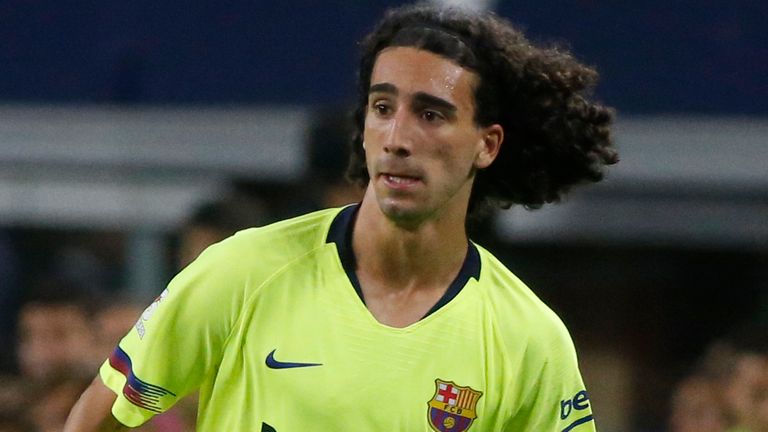 The 25-year-old explained: "He changed the mentality at Barcelona. Before Guardiola, Barcelona were a good team and when he came, they changed the philosophy, they played amazing football – I think one of the best teams in the history of football. They played at another level.
"The philosophy in the Barcelona academy changed because all the teams, they play the same style, the same formation with the same mentality and I think this is very good.
"We can see they do the same here at Manchester City. The team plays really well and they have good things to show, every year they change some things to try to improve on this.
"I don't have a relationship with him, I've seen him at some events and I can speak a little bit with him. He's a very good person.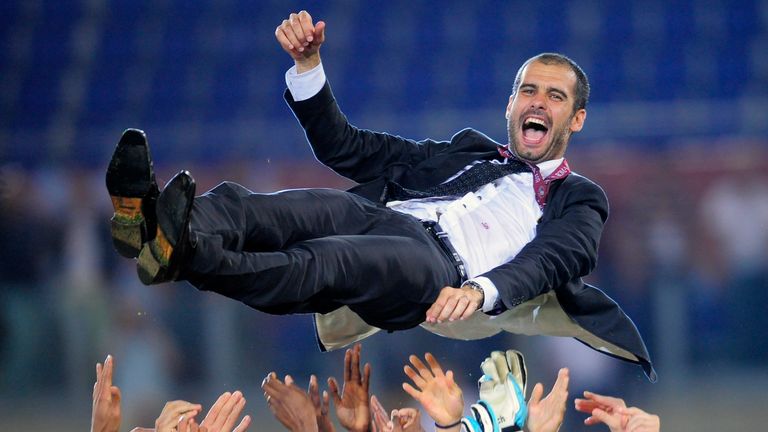 "Not for me personally but in my academy stage, they showed me a lot because they changed their mentality and a lot of things I can learnt are from his ideas that he brought to Barcelona."
At the age of 25, Cucurella has plenty of time to make the progression he wants. Having had influences such as Guardiola and now Pochettino to guide the way, the left-back's potential to learn and improve on his first season at Chelsea is already taking shape.
Watch Chelsea vs Man City on Super Sunday live on Sky Sports Premier League from 4pm; kick-off 4.30pm.