Harry Maguire has claimed he can handle all the criticism that comes his way after a difficult night for England against Scotland, adding that any focus and pressure he can take from his team-mates is a positive thing.
Maguire, a half-time substitute, was jeered by the Hampden Park home crowd every time he touched the ball and scored a second-half own goal, though England ran out 3-1 winners in Tuesday night's friendly.
The treatment of the Manchester United defender led a "livid" Gareth Southgate to brand it as "an absolute joke" and the England manager blamed the actions of "people in our own country" for Scotland fans jumping on his back.
Speaking to Sky Sports News, Gareth Southgate launched a vehement defence of Harry Maguire, describing his treatment by some supporters as a 'joke

Maguire has had his say on recent criticism: "I would not say I am a person who struggles with pressure mentally. I have been through a lot in the last couple of years and I have been Manchester United captain for nearly four years. You take a huge amount of responsibility and everything that comes with it, and that is a lot of bad as well as good.
"I would not say I am used to it, but I can deal with it. It pretty much takes the pressure away from my team-mates and puts it all on myself. It makes them play better, for sure. It is a little bit of banter and it is a hostile environment, coming away to Scotland.
"We have given them a goal, which is unfortunate. We knew it would be hostile and in the second half, I got most of it. I am happy to go with that, don't worry about that."
Maguire received praise from the away fans in Hampden all throughout the second half and said "nothing is better" than receiving an ovation from the England fans.
"They have seen what I have delivered for England over 59 caps," he added, when asked about the positive treatment.
"I have been to three major tournaments with them, they have followed us around loud and proud and I have grown up a huge England fan, and nothing is better than receiving a great reception every time I play for my country."
Maguire: I'm sure I'll play for Man Utd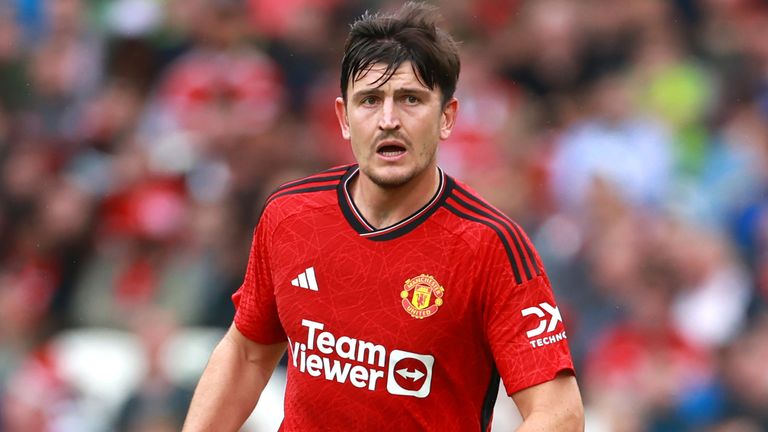 Maguire now turns his attention to the fight for his place at Manchester United, where a lack of minutes could put his place at Euro 2024 in jeopardy – something he says is "too far away" to worry about.
West Ham did offer him a route to regular action in the summer – and had a £30m offer for Maguire accepted by United – but the defender said "we didn't come to an agreement" and United were happy for him to stay.
"Of course, my England career is a big priority," he added. "And so is my club career.
"I considered everything and I know, at the moment, when I have not started a game in the first four games of the season, the story comes to me.
"I finished off last season with two very strong performances for England and I have played in all five matches to help put us where we are in qualifying, so I need to keep performing when I get chosen.
"Listen, at club football, I want to play games, I want to play football. The first four weeks were hard because it was one game a week and the manager didn't select me but we have lots of games coming up now and I am sure I will play lots of games."
Southgate: Credit to Maguire
Gareth Southgate has described the treatment of Harry Maguire by some supporters and pundits as 'a joke', insisting he's been crucial to England's recent success

Speaking to Sky Sports News on Tuesday night, Southgate said: "He's just come out and spoken to the media, which I think shows the resilience and the character of him.
"We're now in a situation where, because of people in our own country, the opposition think they can have fun with him. What's that about?
"He's been an incredible player for England in one of the most successful teams we've had – critical for what we've been doing.
"We allow him to be open to that? It's a joke; an absolute joke. It makes me livid.
"Thankfully he's got the support of the dressing room and the people behind him. I thought the England fans in the stadium tonight were absolutely brilliant.
"I've no problem with the Scotland fans – they're having fun. But what stirs that up is people in our own country. Other players will think: 'Is that what awaits us?'
"Great credit to him that he managed to show the composure with the ball, keep the ball and put that moment behind him."
Analysis: Southgate ready to stick with Maguire
Sky Sports News' Rob Dorsett says he expects Gareth Southgate to continue to back Harry Maguire despite criticism over the defender's performances

Sky Sports News' Rob Dorsett:
Maguire has become a caricature of calamity in a lot of people's eyes in and around football and his manager Gareth Southgate has had enough, plain and simple. Rarely have I seen the England manager so animated as he was when he spoke to me in the mixed zone at Hampden Park last night. His paternal instincts came out again. We've seen it with the younger players in the squad in the past but last night it was one of the senior players he was looking to protect.
I don't think the England supporters were critical or mocking Harry Maguire, by contrast they were cheering his name. But the point Southgate is making is the criticism Maguire has had from pundits, the media and on social media has created this caricature of calamity which is fair game for opposing fans to have a go at.
I get the sense Gareth Southgate will dig his heels in here and become more stubborn and continue to pick Harry Maguire and continue to play Harry Maguire even if the noises around that get louder and louder against the idea of him playing for England.
To put that into context, Maguire scored an own goal last night and he was unlucky. That can happen to any player. He actually played pretty well for the rest of the 45 minutes he was on, his positional play was good, he didn't give the ball away and yet even on our own Sky Sports website and App we've given him 4/10, two less than anybody else. The vast majority of England players got 7 or 8 out of 10.
Nobody's wrong, it's subjective and everyone is entitled to their opinion but Southgate has had enough of the opinions he thinks are misguided being directed pointedly at Harry Maguire.
Ramsdale: Maguire's a leader – I love working with him
Aaron Ramsdale watched Maguire's wayward touch go past him and into the net at Hampden Park to ruin his prospects of keeping a clean sheet, but the goalkeeper also strongly defended his team-mate after the match.
Speaking to Sky Sports News, the Arsenal 'keeper said: "I can sympathise with him in a way because I've been at the other end of the Premier League and been relegated twice.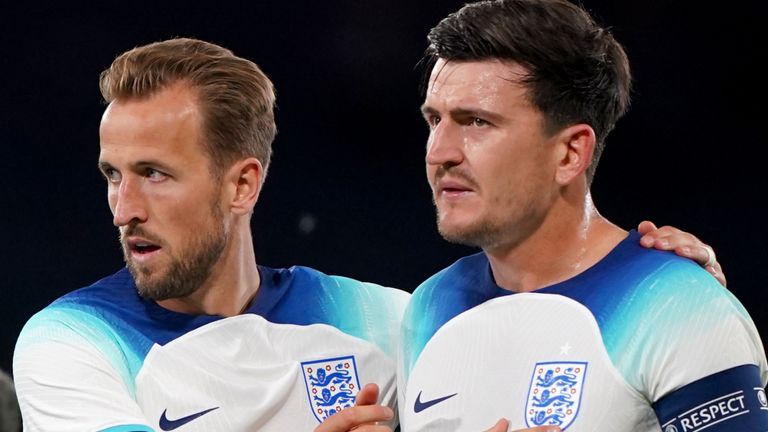 "When you're in a period where fans or pundits put you under the microscope, every little thing is analysed. If he was playing week in and week out, or this noise wasn't around, and he scored an own goal then this probably gets brushed under the carpet.
"He's tried to do the right thing and clear it, but it's gone in. It's unfortunate but because of the situation people are overhyping, saying he shouldn't be playing.
"Maguire is, as we've seen over the past few years for England, one of the best defenders we've got. He's so strong mentally, he's got great people around him and he knows his qualities.
"He's a leader and I love working with him."