One thousand, one hundred and fourteen games in management – and counting. David Moyes has no intention of retiring just yet, regardless of his West Ham future.
The 60-year-old, who masterminded the club's first trophy for 43 years, is in the final year of his contract with the Hammers but believes there is still so much more he can achieve there.
Moyes draws parallels with his 11-year spell at Everton, the consistency he built to finish in the top eight of the Premier League in each of his last seven seasons while taking them into Europe four times.

Sunday 12th November 1:00pm


Kick off 2:00pm

"I'm not in a hurry to stop managing, that's for sure," he told Sky Sports following reports this week his current deal will not be extended and he could be offered a role upstairs at West Ham.
"I can grow teams and clubs. I genuinely think there are loads of similarities at West Ham [to Everton]. Things we can do better, what we're trying to do.
David Moyes says his West Ham side are competing in their hardest-ever European group after beating Olympiakos 1-0 at the London Stadium in the Europa League

"We've had a couple of really good years, sixth and seventh, and the other year 14th. We're trying to build that and make it more consistent. In between, we've won a cup which is so difficult to do."
Adorning the walls of West Ham's training ground are pictures of their Europa Conference League triumph. There's Lucas Paqueta holding the trophy aloft and Thilo Kehrer shouting into a microphone on an open-top bus.
It is what Moyes always hoped for and why he committed for another year in the summer despite the chance to leave as a legend.
"I said to the players, 'The pictures we've got of Sir Trevor Brooking, Bobby Moore, Billy Bonds, that's a long generation away, we want our pictures up there to be seen around the training ground and the stadium – and they are now'," he said.
"Maybe the memories of that team might be much better than the team I've got but undoubtedly this team are cup winners and something that hasn't happened for a long time."
Moyes' side are at it again in Europe, this time top of their Europa League group with two games to play. Victory over Olympiakos on Thursday night put them in pole position. It was Moyes' 100th win at the club and the latest record to tumble. He is proud of his longevity.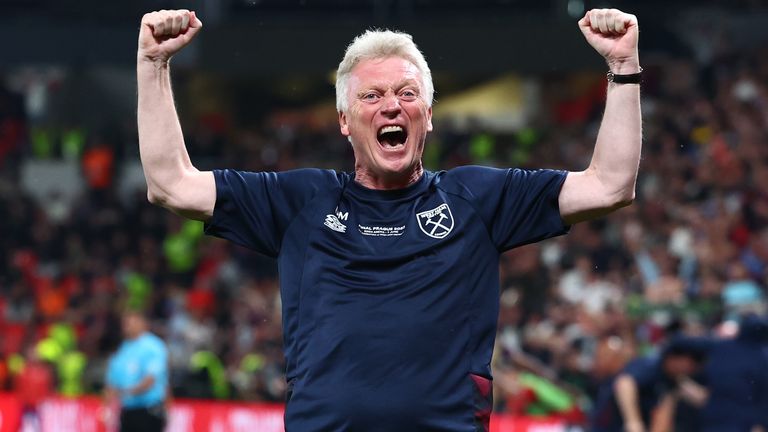 "The biggest milestone for me was always reaching 1,000 games as a manager because when you do that you've had a career out of management," he said.
"It takes a long time to get to there and with what you must go through. If you're in work, it means you must be doing something right to keep yourself in the job.
"The fire always burns, even when I've been losing because I want to get back and get the result. The defeats are always hard to take and it doesn't get any easier the older you get."
David Moyes on Nottingham Forest:
"Nottingham Forest is a club everybody remembers. Brian Clough, the teams they had, the European games I remember them greatly.
"The super team they had: Kenny Burns, Dave Needham, Gary Birtles, Martin O'Neill, John Robertson. Over the years Nottingham Forest have had brilliant teams.
"They're in the new generation now and did brilliantly to get promoted, first of all, and then stay up. Steve Cooper is doing a really good job."
It has been at the domestic level where results have been tougher. One win in seven has West Ham sitting in the bottom half with some supporters disgruntled that their exciting squad should be doing better. Moyes agrees that the "Premier League is the thing you really want to excel in".
Their European adventures have often come at a cost, winning only twice in their last 11 league games that have directly followed a Thursday night fixture. Moyes is upbeat that they will get better.
"It's a challenge but one I hugely embrace and continue to say be careful because it's not something you get very often," he said. "We started the season really well, last season we didn't and were playing catch-up. We were pretty good after the World Cup and were much stronger in the second half of the season.
"We've had a couple of difficult games recently but I'm really confident we'll be good."
David Moyes says his West Ham side are competing in their hardest-ever European group after beating Olympiakos 1-0 at the London Stadium in the Europa League

Mohammed Kudus' brilliant acrobatic goal at Brentford last weekend was the latest example of the quality in the West Ham squad. Jarrod Bowen has stepped into a different role as a striker while Lucas Paqueta continues to show why Manchester City wanted him.
James Ward-Prowse is establishing himself as one of the signings of the season, with Edson Alvarez also settling into West Ham's new-look midfield.
The pieces are in place for the club to improve but will Moyes be afforded the time to take them forward?
"When I think about the team I had at the start at Everton to the team I had at the end, I had Leighton Baines, Mikel Arteta, Steven Pienaar, Tim Cahill, I had an incredible group of players who were a really good team. I think we're growing that team," said Moyes.
"It takes a little bit of time and we're in a world now where everything is wanted done instantly. Some clubs have money, unless you're one of those clubs – and we're not one – we have to go step by step.
"Sometimes you don't make a big step, sometimes you can step backwards, but over the three or four years we've been here now, in the main it's been steps forwards. We're going in the right direction."
Watch West Ham vs Nottingham Forest on Super Sunday, live on Sky Sports Premier League from 1pm; Kick-off 2pm