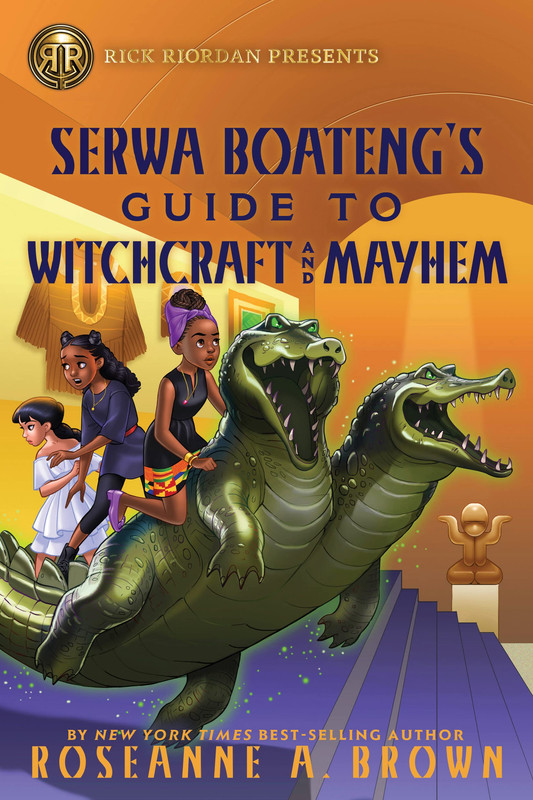 Serwa Boateng's Guide to Witchcraft and Mayhem by Rosanne A. Brown
Best-selling author Rick Riordan presents the highly anticipated sequel to Rosanne A. Brown's explosive novel about a preteen vampire slayer, inspired by Ghanaian folklore.
After a lifetime of fighting creatures of black magic, twelve-year-old Serwa Boateng has just learned a devastating secret: she herself is half vampire! Now not only is she dealing with vampire puberty, she's on the run from the organization of Slayers she trained her whole life to join.
Serwa's only ally is her aunt Boahinmaa, an obayifo who urges Serwa to embrace her vampire side. Boahinmaa and her underlings are on the hunt for the Midnight Drum, from which they hope to free Serwa's grandmother. When they learn that the Abomofuo have hidden the Midnight Drum deep within the Smithsonian Museum of African Art in Washington, D.C., what do they do? Stage a heist to steal it, of course!
For their plan to succeed, Serwa will have to get close to her rival, a Slayer named Declan Amankwah, without revealing her real nature. Declan gets under her skin like no one else . . . and might just force Serwa to confront some truths she's tried hard to deny.
This is a sequel, so there are spoilers from book one below.
After Serwa's seal was removed, her dark magic side appeared. She wiped her friends' memories. She wakes up in DC with her aunt and a lot of vampires and other creatures. Serwa is still angry with her parents for lying to her and her aunt makes her feel at home. She starts spending time with the dark magic creatures and is doing ok. She misses her friends and even her parents though. She also doesn't want to drink blood even though she knows she'll have to. She's been hiding out from the Slayers, but she overhears a conversation her aunt has and decides to follow her. Serwa can't control her magic yet and she does cause some issues in DC. But her aunt decides to let her help them with a heist. They need to steal the Midnight Drum and free Serwa's grandma from it. Her aunt explains why her grandma ended up the way she did and Serwa isn't sure that she should be trapped anymore. She runs into her old nemesis, Declan, and decides to play nice with him to get the information she needs.
I love this series so far and can't wait for the third book. I gave this book 5 stars.
Have you read this yet?  Is it on your TBR?  What did you think of book one?