Former Spanish FA president Luis Rubiales has been banned from going within 200m of Jenni Hermoso, as her World Cup-winning team-mates said they did not feel safe playing for the country.
Thirty-nine Spanish female soccer players – including all but two of the World Cup squad – raised safety concerns following a furore over Rubiales' allegedly non-consensual kiss on Hermoso, in a statement on Friday.
The players demanded further federation changes but did not clarify whether they would continue with a boycott of playing for the national team.
The statement, which includes the signatures of star names such as Hermoso, Alexia Putellas, Olga Carmona and former Manchester United player Ona Batlle, said: "We have transmitted to the (FA), the changes that have occurred are not enough for the players to feel in a safe place, where women are respected, there is a commitment to women's football and where we can give our maximum performance.
Sky Sports chief reporter Kaveh Solhekol explains what changes Spain Women's nation team demand and what repercussions Luis Rubiales may face.

"The players of the Spanish team are professional players, and what fills us most with pride is wearing the shirt of our team and always leading our country to the highest positions.
"For this reason, we believe that it is time to fight to show that these situations and practices have no place in our football or in our society and that the current structure needs changes. We do it so that the next generations can have a much more equal game that we all deserve."
The statement is also signed by a number of players who withdrew from the Spain squad last year over conditions within the national team set-up, including Mapi Leon and Patricia Guijarro
The new coach of Spain's women's team Montse Tom had to delay the announcement of her first squad after the announcement from the players. The federation said the players had rejected their attempts to convince them to return to the team early on Friday.
Tom will have to decide whether to still call up the revolting players or select a completely different team for upcoming Nations League games against Sweden and Switzerland on September 22 and 26.
Judge bans Rubiales from within 200m of Hermoso
Earlier on Friday, an investigating judge at Spain's High Court imposed a restraining order on Rubiales after he appeared in court to be investigated for sexual assault for kissing Hermoso on the lips.
Judge Francisco de Jorge issued the restraining order that prohibits Rubiales from being within 200m of Hermoso. The state prosecutors had asked for that ban to reach 500 meters.
Rubiales denied any wrongdoing when questioned about kissing Hermoso.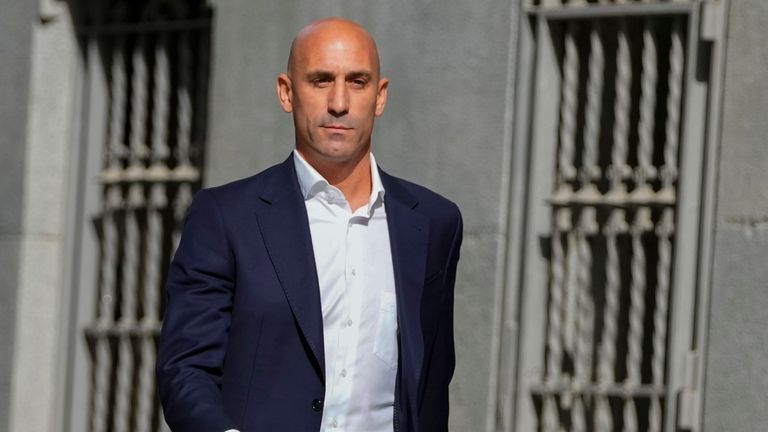 The judge rejected the prosecutors' request to also oblige Rubiales to check in with a court every 15 days, as well as the request by Hermoso's lawyer to freeze assets belonging to Rubiales.
Rubiales kissed Hermoso on the lips after Spain beat England to win the Women's World Cup title in Australia last month. He said she had consented to the kiss, but Hermoso has denied that repeatedly.
Spanish state prosecutors formally accused Rubiales last week of sexual assault and an act of coercion. According to Hermoso, Rubiales pressured her to speak out in his defence immediately after the scandal erupted.
World Cup winner Alexia Putellas urged institutions both inside and outside of the game to show 'courage and leadership' to prevent women from suffering abuse or lack of respect

The state prosecutors' office said Rubiales denied both accusations when answering questions by the judge in an hour-long hearing that was closed to the public.
Neither Rubiales nor his defence lawyer, Olga Tubau, spoke to the media outside the National Court.
Hermoso's lawyer, Carla Vall i Duran, said they were satisfied with the hearing. "We can continue to affirm that the kiss was not consented to, which is what we have said from the very beginning," Vall i Duran said.
"Thanks to the (images of the kiss), the entire world, the entire country, has been able to observe there was no type of consent. And we are going to prove that in the courtroom."
The 46-year-old Rubiales finally folded Sunday under immense pressure from government and soccer authorities and announced that he was resigning from his post as Spanish president. He had already been provisionally suspended by FIFA.
De Jorge is carrying out the preliminary investigation into the accusations against Rubiales, and will then decide whether the case should go to trial.
According to a sexual consent law passed in Spain last year, Rubiales could face a fine or a prison sentence of one to four years if found guilty of sexual assault. The new law eliminated the difference between "sexual harassment" and "sexual assault," sanctioning any non-consensual sexual act.
Hermoso had already given testimony to state prosecutors when she accused Rubiales of sexual assault last week, before she left Spain to join her Mexican club, Pachuca.
In the days following the World Cup final, Rubiales said that the kiss was "mutual" and like one "I could give one of my daughters."
Hermoso responded by saying that was a lie. "I felt vulnerable and a victim of an impulse-driven, sexist, out of place act without any consent on my part," Hermoso said in a statement posted on social media. "Simply put, I was not respected."