"I think I go under the radar." That was Ollie Watkins' own view following his England recall last month. After a week in which he scored Aston Villa's winner in Europe before adding to his Premier League total, that under-the-radar tag is surely untenable.
Only two players have been directly involved in more Premier League goals than Watkins in 2023 and their names are Erling Haaland and Mohamed Salah. At 27, this is a man in the form of his life, his game now transformed under Unai Emery at Villa Park.
He has been a pillar of the Villa team that is now fifth in the table, just three points off top spot, having won every home game. Watkins is so pivotal that he has not even been substituted in the Premier League since September despite his European exertions.
He has either scored or assisted in the majority of those Premier League appearances. Indeed, he is the only player to have at least five of each. As many goals as Nico Jackson and Alexander Isak, as many assists as James Ward-Prowse and James Maddison.
What is fascinating about Watkins' evolution is that, at a time when other strikers are being reimagined as wide forwards, finding their space in the channels, he has emerged as a true striker, working hard to stay in those central areas for the benefit of the team.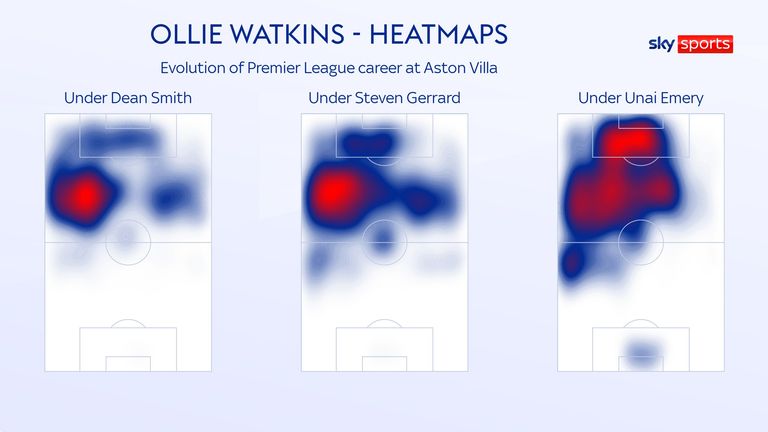 He is having more touches in the opposition box this season. Crucially, he is having more of his touches in the opposition box too. "Before I was running into the channels and into the corners," he said earlier this year. "Now I am staying within the width of the box."
The graphics depicting his heatmaps under Dean Smith, Steven Gerrard and Emery reveal how fundamental this shift has been. It has been a challenge for Watkins because becoming more of a penalty-box player places greater onus on him to finish off the chances.
He is continuing to work hard to improve his finishing, even seeking external help in order to do extra sessions focused on this specific aspect of his game, but Watkins is not necessarily a natural. It is not his finishing that makes him special. The statistics show that.
Unusually, for a player who is delivering so consistently in front of goal, Watkins is actually underperforming his expected goals – and has done so every season so far for Villa. Even against Fulham, he buried his head in his shirt after contriving to head wide late on.
His expected-goals total for that game was 1.91, a Premier League career high for Watkins. There was also the point-blank header in stoppage time away to Wolves that struck the foot of the post and would have brought Villa two more points had it gone in.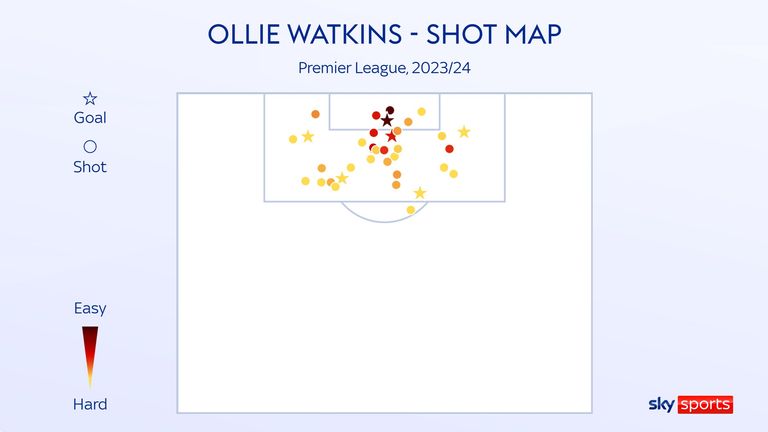 But Watkins was there to miss them. It is an undervalued skill. His movement has earned him those high expected goals numbers. Witness his earlier goal in that game. A straightforward finish, perhaps, but one that came after an 80-yard sprint into the box.
Watkins ranks second in the Premier League for attacking runs this season but he is top – and by some distance – for runs that challenge the back line. He is continually trying to run in behind, testing the offside trap and stretching the opposition defence.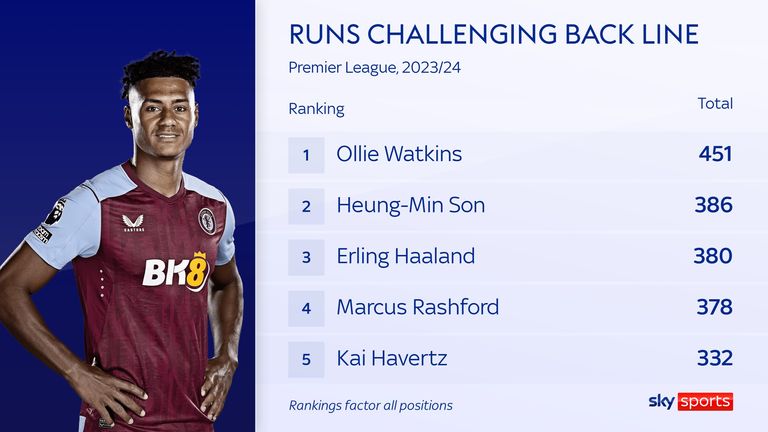 It creates space for others and makes him invaluable to Emery, who has praised his commitment and desire. John McGinn sums up the view of his team-mates. "He works really hard for the team which sometimes goes unnoticed," says the Aston Villa captain.
Maybe that is Watkins' super power. He has the work ethic to make the runs, the fitness to keep making them and the speed to make them so dangerous. It has earned him another England chance. Who knows where it could take Aston Villa? Under the radar, no more.